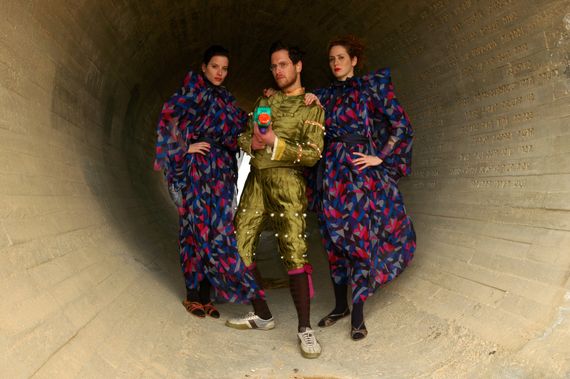 Stockholm Syndrome is a video trilogy about the tendencies of Jews to return to Europe, as many young Israelis find themselves attached to a homeland in which they were never born while perfectly aware of the victim-victimizer relationship, which is well rooted in the fabrication of Israelism.

Amit Epstein (born 1977 in Tel Aviv) studied ​​theater at the Thelma Yellin High School for Dance, Theater and Performance, and then took an intensive course in Dance-Theater at the SNDD in Amsterdam. For a year he has worked as a dancer with the Dance-Theatre Company Rina Sheinfeld in Tel Aviv. After that he studied at the Bezalel Academy of Art and Design in Jerusalem, where he was granted the Bezal'el Prize for Excellence in 2001 & 2002 and the Meisler Prize for design 2002. As further studies, he attended the Haute Couture master class of Vivienne Westwood at the UdK in Berlin, for which he received a two-year scholarship from the DAAD artists program. Since 2007, Amit Epstein works as a costume designer, dramaturge & author for dance, opera and theater productions in Europe and Israel. As a director, Amit Epstein has made ​​dramatic video that were shown in several film festivals. In addition his films were presented in numerous exhibitions in various galleries. Three of his films were selected by the German Short Film Association to be advertised at their yearly catalogue 100 outstanding German short films.
---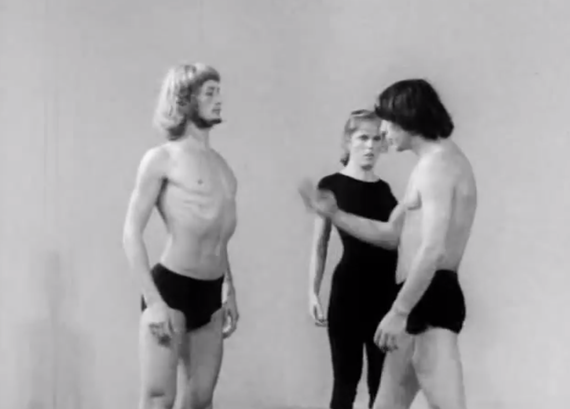 A collaborative space to develop a series of text & image based work.
Bad Company will argue the case for the political value of being bad, or being under the influence of bad people, bad language and bad ideas. A short break from regimes of expected high-input functionality and demanding cultural affirmations. Together we will celebrate the allure of the bad and the minor. This may include jabbering, tiny movements and gluing.
The workshop (in English) is free but based on the initial contributions of the participants who are asked to bring a text or an image – their own, or others – of what they consider bad company. It can be what certain institutions or regimes will define as bad company, or what the main stream will, or what they consider to be bad company, or themselves as bad company and how.

Across her practice London based artist Oreet Ashery (born 1966 in Jerusalem) Ashery mines counter-cultures and trash aesthetics in performances, situations, public platforms, photographs, videos, mass-produced and unique artefacts, text and commissioned music. Her expansive and eclectic body of work is made of multilayered projects that reveal ideological, social and gendered paradigms, often through intimate moments of recognition and tend to evolve around minority discourse.
Most recently Ashery focused on freedom rhetoric, collective actions and cultural value. In this context Ashery produced Party for Freedom, an Artangel commission in 2013, and The World is Flooding, aTate Modern Turbine Hall commission, 2014. Ashery has exhibited and performed extensively at international contexts such as ZKM Karlsruhe, Haus der Kulturen der Welt Berlin, Brooklyn Museum, Overgaden Copenhagen, DEPO Istanbul, Whitstable Biennale, Centre Pompidou, and Freud Museum. Ashery is the 2014-15 Stanley Picker Fine Art Fellow and a Visiting Professor at the Painting Department at the RCA.
As the number of participants is limited, please submit your binding registration via email to redemption-jokes@ngbk.de.

---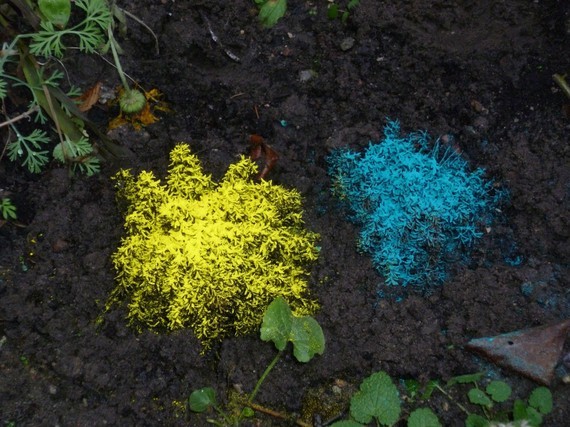 An Encounter is defined as a self-experience, as well as related movements, so to explore yourself, to be confident and to grow personally. It involves direct contact with your own Cheesecake and with Anja Ibsch in the here-and-now.
Self-distancing in existential analysis means the humorous shift to the self. Two very useful techniques of dealing with physical symptoms deriving from self-distancing are paradoxical intention and the de-reflexion. Complex non-knowledge thus allows moments of fluctuations in the artistic process. Coffee is also available.
Anja Ibsch works in performance art and installation. In her practice she deals intensely with the research of personal, cultural and social aspects of human presence as a way of "thinking through cells". She realised numerous performances in Europe, Asia and America. Anja Ibsch is / was a member of the Ultimate Akademie Cologne (1993-1999), the Berlin group pakt (2000-2004), the Rheinische fundamentalists in Cologne (since 1995), the Berlin Performer Stammtisch (since 2005), the Association for Performance Art in Berlin (since 2013) , 2005 Anja Ibsch organized the 13th Performance Art Conference on Cooperation in Berlin. For this year's Month of Performance Art Berlin she is planning a program entitled Serious Laughter.
Please book with time preference for an Encounter for one person via redemption-jokes(at)ngbk(dot)net:
Wednesday, March 11: 4- 5 p.m. (booked); 5 - 6 p.m. (booked); 6- 7 p.m. (booked)
Saturday, March 14: 3 - 4 p.m. (booked); 4 - 5 p.m.; 5 - 6 p.m. (booked)
---
Office for Paradoxical Relations at the nGbK exhibition space is the starting point for the 3-day video research of the Oranienstr. and it's neighborhood. The participants set off on a quest for the unexpected situations, hidden treasures, special persons und everyday jokes. Everything goes - from video-selfies to documentary video portraits and animated GIF's.
Together we explore what stories human face has to tell and looking for small wonders and paradoxes of everyday life trough the camera lens.The video portraits created by the participants are going to be publicly presented during Redemption Jokes part 2 exhibition (nGbK September/November 2015)
Workshop by Branka Pavlovic, film editor and videoartist, nGbK art outreach stipend recipient 2013/2015
Thursday, March 12, 5.30 - 7 p.m.

 Input: From the Portrait Photography to Selfies and back ( a short history of the (video)portraits. Brainstorming, ideas development, discussion.
Friday, March 13, 11 a.m. - 4 p.m.

Research, concepts, person- and location scouting, preparations, props, filming on location. (2 groups on more, depending on the number of participants).
Saturday, March 14, 12 - 4 p.m.

Additional filming, postproduction, editing (if needed), color correction, export.
The participants have 2 SLR NIKON D3100 cameras, 2 tripods and audio recorder at their disposal, you are also very welcome to work with your own iPads, iPhones, tablets and cameras.
The workshop is open for all interested; the experience or a background in video and/or photography is not crucial. The videoworkshop is free of charge. Number of participants max. 6. The schedule can be modified depending on the number and the needs of the participants.
Additional informations and (binding) registration: kunstvermittlung(at)ngbk(dot)de
---
Videoworkshop in cooperation with Gymnasium Tiergarten, Berlin.
---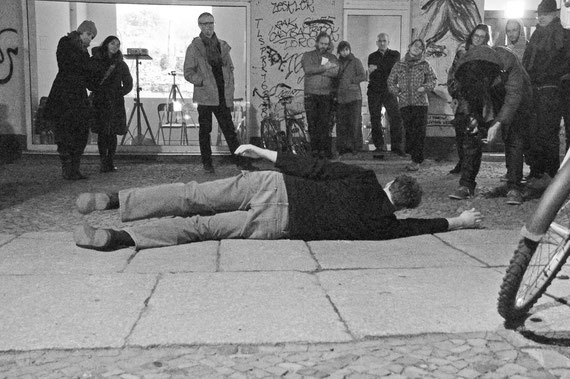 Simone Forti once told Jeremiah: "keep it light." To make political subjects tender and soft is not only more persuasive, it's more accurate: these are other people, after all, doing things, imposing and suffering. In this workshop we will consider one approach of staying close, of being earnest without (too much) posturing and self-righteousness: the local. Globalized critical theory can fall apart when confronted with concrete situations. What if we think from inside>out, and then back again? Concrete examples of such re-groundings will be considered: Allan Kaprow and Amiri Baraka in particular offer two very different routes. The workshop will be mostly discussion but punctuated by some 'field-work,' and (hopefully) some guest speakers. After all Berlin is the adopted home of so many exiles, and is known for this at exactly the same time it is the political capitol of a Germany that no longer subordinates its ambitions to the European Project. This particular intersection will be in the background, to be considered and approached with care.
Jeremiah Day, Amsterdam/Berlin based artist, whose performances, photographs and installations weave the inter-relationship between local and world history, fragmentary glimpses of sites of epic meaning, and those of more anonymous historical forces.
The number of participants is limited to 15. Please enroll by writing an email to redemption-jokes(at)ngbk(dot)de.
---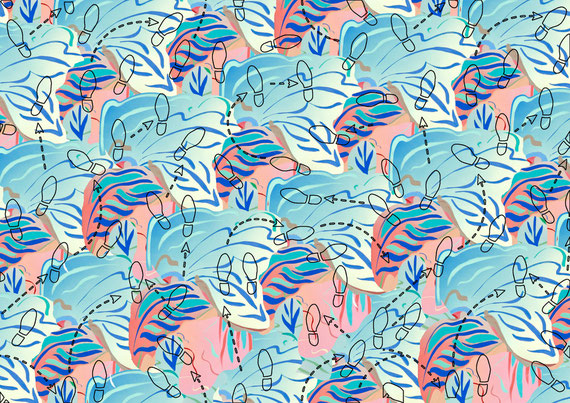 Sol Calero's workshop "Salsa" compiles her artistic projects revolving around the Latin dance and music style of the same name and a continuation of her research exploring the multi-functionality and complexities of Latino social space and aesthetics.
Though it is widely thought of as a pan-Latin American phenomenon, 'Salsa' music was first conceived in East Harlem, New York - known to locals as 'el Barrio' - during the 1970s.
Despite its entrepreneurial elements, Salsa and New York's Latin music scene in general were true testaments to racial integration, the social power of music, and were also instrumental in helping Spanish-speaking immigrants define their own community and culture. It spoke to the difficulties of poverty, and offered an empowered cultural space for the Latino population to at once be in touch with their roots and to feel comfortably at home in New York. Lyrical content ranged from heartbreak to macho posturing to sharp cultural and political commentary, reflecting the era of Vietnam and violently suppressed left-wing uprisings in Central and South America as well as dangerous street life in New York City.
The exuberant, energetic nature of the music and its contagious nature lead to Salsa eclipsing countless indigenous and regional musical styles across Latin America, becoming a powerhouse that dominated Latin music and dance well into the 80s and 90s. Forty years since the initial rise of Salsa, it has persisted as an international phenomenon with Salsa nights, concerts, and dance schools still popular all over the world. While the music and dance has helped galvanize a genuine interest in Latin American culture, the fascination is often taken to be idealized, exoticized, andaestheticized, painting an image that is generally a far cry from the realities of daily life in Latin America.
In this way 'Salsa', as a North American creation, has had the double effect of Latinos internalizing the Western Gaze back upon themselves and also providing non-latinos an outlet for living out their fantasies loaded with 'saucy' emotions and 'spicy' passions, which are sometimes culturally suppressed.
15:00h
Redemption Legs . Witty Non-Compliance in Tactical Frivolity, Lindy Hop and Salsa
Introductory Thoughts by Anna Bromley
15:15h
Latin Music USA
Exerpts from the documentary by Pamela A. Aquilar/Daniel McCabe, 2009, 240 mins.
17-19h p.m.
Dancing Salsa
Dance Instruction by Bettina Cabrera (La Mambita Tanzschule)
and Caracas Mules at the Bar
No registration needed. You can just drop in!
---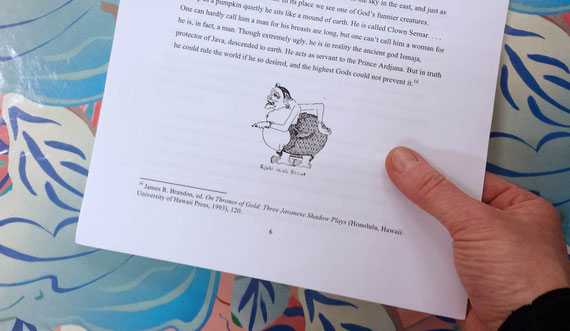 Preciosa de Joya is currently a fellow at the ICI - Institute for Cultural Inquiry Berlin. As part of the ICI core project on Errans, her research explores Philippine and Indonesian cultures for spaces that have been neglected or deemed unworthy by philosophical inquiry. Our office appt. discussion will be on humor, looking particularly into the case of the clown-servants (punakawans) in Javanese shadow puppet theatre (wayang). We advice to read the text below for a preliminary warm-up!
---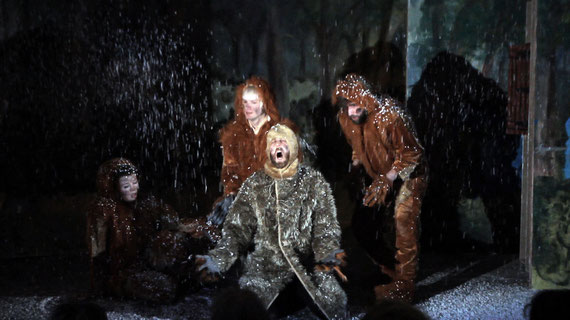 Christopher Kline's "O.K.(Comedic Struggle)" Acting Workshop revolves around elements of community theatre musical production, with a focus on creating and acting out comedic dialog. Exploring the terrain of humor itself, participants will work out why some things are funnier than others, and will act out and rework "O.K." dialogs to optimize comedic and dramatic effect.

The term "O.K." has become one of the most universally used and understood words in the world. Its rise to prominence can be traced back to Martin Van Buren's failed U.S. Presidential reelection campaign of 1840, for which the abbreviation of his hometown nickname "Old Kinderhook" was the rallying cry of his supporters. Oriented around the propagation of "O.K." as a metaphor for the subtle permeation of small-town American idiosyncrasies into broader cultural forms, Kline's project explores early cultural exports and anomalies originating in Van Buren's (and Kline's) birthplace as well as recent local developments there since post- industrialization.The recent focus of the project has been to gradually develop a full-scale theatre musical which synthesizes the lore and history of Kinderhook into a locally-relevant "everyman's" medium.
Through workshops, exhibitions and smaller-scale performances such as "O.K. – The Musical (Dress Rehearsals)", staged in February at KW, the musical is slowly born as a series of historical vignettes viewed through a lens which is continually pulling back to reveal the inner-workings and, at times, unfortunate realities of amateur theatre.

11:00
A Dilettante's Introduction to Theatre Musicals

11:30
Warm-up stretches, Power positions, Singing and voice exercises

11:45
Choral singing of songs from "O.K.–The Musical"

12:30
SUBJECT: Introduction to the history of Kinderhook, New York

12:45
"Getting into Character", Table Read-Through of Script in disguises

13:00
Dialog and Acting Workshop on tone, timing, and inflection

13:30
ONE HOUR LUNCH BREAK

14:30
Presentation and discussion on comedy writing and theories of why things are funny (with examples). Also: improvization

15:30
Return to dialogs with input from comedy discussions and adding improvization on topics brought by participants who will collectively finalize scenes

16:00
Dress rehearsals (in costumes, working on blocking, entrances, etc)

16:30
Live streaming on Pizza Suicide Club TV of improvs and results of workshopped dialog in costume, Repetition of scenes, working on details and individual lines, blocking, etc.

18:00
15 Min Break

18:15
Screening of documentation of "O.K.–The Musical (Dress Rehearsals)" at KW 26.02.2015 for workshop participants, cast, crew and band (33 minutes)
Things workshop participants should bring:
-a disguise
-an example of a small-town conflict

Participation is free, but the number of participants is limited to 15. Please enroll by writing an email to redemption-jokes(at)ngbk(dot)de